"A perfect boat gets even better"
Development of the 290 NG
In spring 2017, we decided to do the impossible. What many considered to be the perfect boat, the Brandskär 290, would be developed and made even better.
---
1. Starting on Vindön
Henric and Janne share their thoughts on the development of the new boat, and how they chose their unique approach to the development process, taking customers, friends, and Brandskär enthusiasts along for the ride. Janne also gives a brief insight into why he chose to start Brandskär, and where the name comes from.
---
2. Customer meetings at Musselbaren in Smögen
We invited people to lunch and a discussion at the fantastic Musselbaren restaurant in Smögen. Participants had the chance to give feedback on design concepts, and share what they wanted from a boat like the one 290 NG would eventually become. The outcome was extremely rewarding: theories were confirmed, and many new, good ideas emerged.
---
3. A Strong Team
To build the perfect boat, you need a strong team. Brandskär is a small shipyard that builds boats for the luxury goods sector, and this is reflected in the type of people who have been involved in our journey. Everyone has to share the same vision and understand the importance of our watchwords: perfection and performance.
---
4. Meet the designer
An important piece of the puzzle on the journey toward the new boat was finding the right designer. It needed to be somebody who could convert all our thoughts and ideas into reality and take them to the next level. The result speaks for itself, and it was a process that was unbelievable instructive for everyone involved.
---
5. 290 NG premiere at Stenungsbaden
What a few days! The new boat was on display for invited guests and the public at the beautiful Stenungsbaden yacht club for three days. There was a cheerful atmosphere, with interested visitors, good food, and a boat that symbolizes the future of Brandskär. The 290 NG is the best boat Brandskär has ever built, and this is just the beginning!
---
6. Comments and reflections on the 290 NG
The response at the unveiling exceeded all expectations. The Brandskär 290 NG is an extraordinary boat at the cutting edge of what the market wants, and how boats are used today. Nothing has been left to chance, and it's truly a great feeling when customers confirm, through their comments, that attention to detail pays off and is appreciated.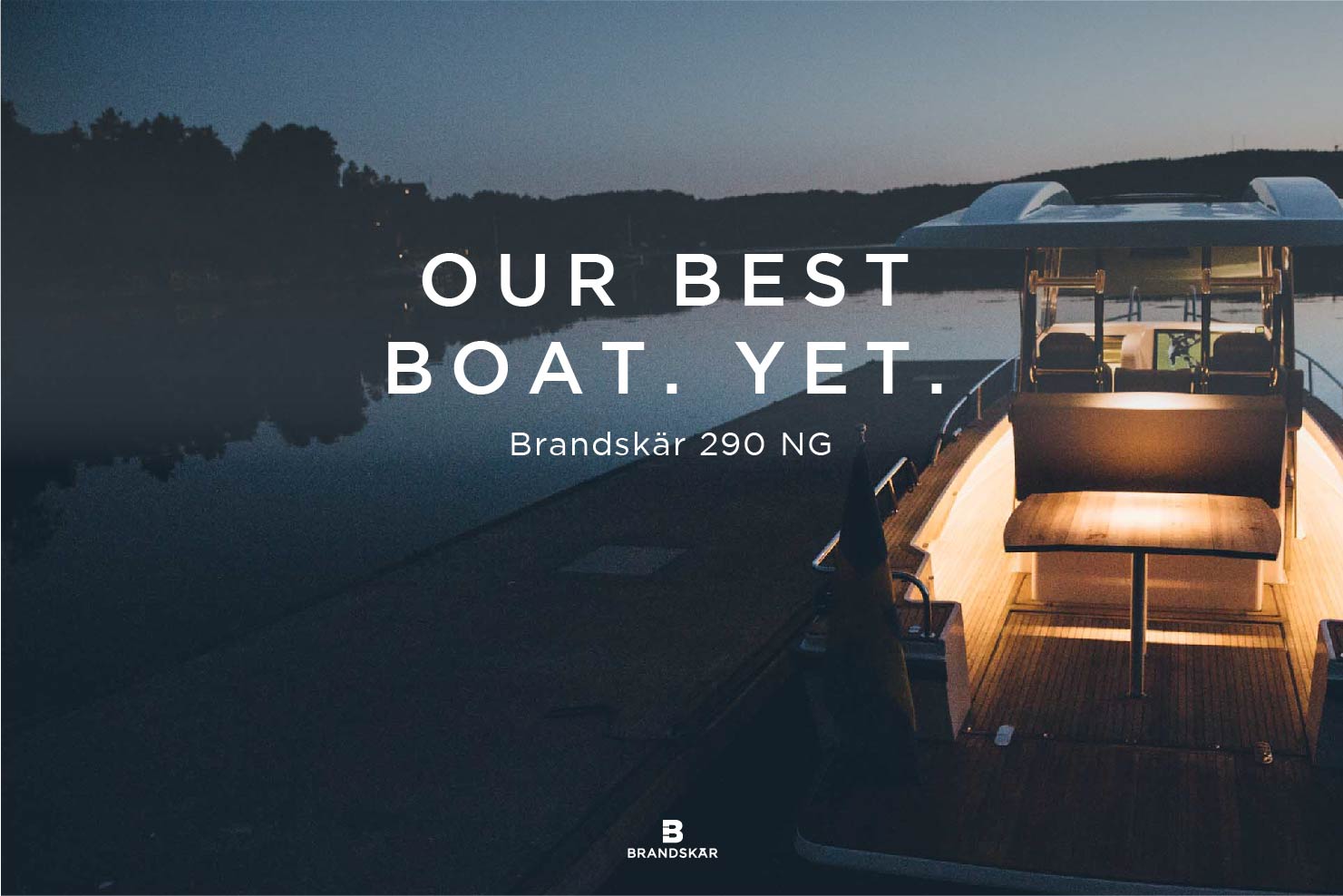 WANT TO KNOW MORE ABOUT THE RESULT?
The journey doesn't end here. In fact, this is just the beginning. Thanks to this amazing response, we can move forward stronger, and the future looks bright. The development process used for the 290 NG will also be used for all our future boats, and we're always curious to hear ideas and thoughts from interested and engaged friends, followers, colleagues, and boat owners. Visit the 290 NG page to find out more about our best boat yet.
About the Brandskär 290 NG